COSMETIC DENTISTRY
Over the last years cosmetic dentistry has increased in popularity. More and more people long for a beautiful smile, nice white teeth that blend in with the surrounding healthy gums, lips and whole face. Cosmetic dentistry treatments such as smile design, teeth whitening, veneers, full ceramic crowns and bridgework together with gums treatments provide numerous options for boosting both teeth and gums colour and perception. Thanks to years of our hands-on experience and efforts put in both education and practical work with patients in order to make their wishes come true, we proudly claim that we know, can and will show you the way to a long-awaited beautiful smile. With us you can rest assured that you'll receive the best of care.
Is a term, as we understand it, which helps us to create an individual bespoke smile together with dental technicians. After having a talk with a patient and exactly to their wishes in our laboratory we make a wax design of future teeth that will both in terms of their form and position achieve optimal aesthetic and functional result. This procedure is called wax up.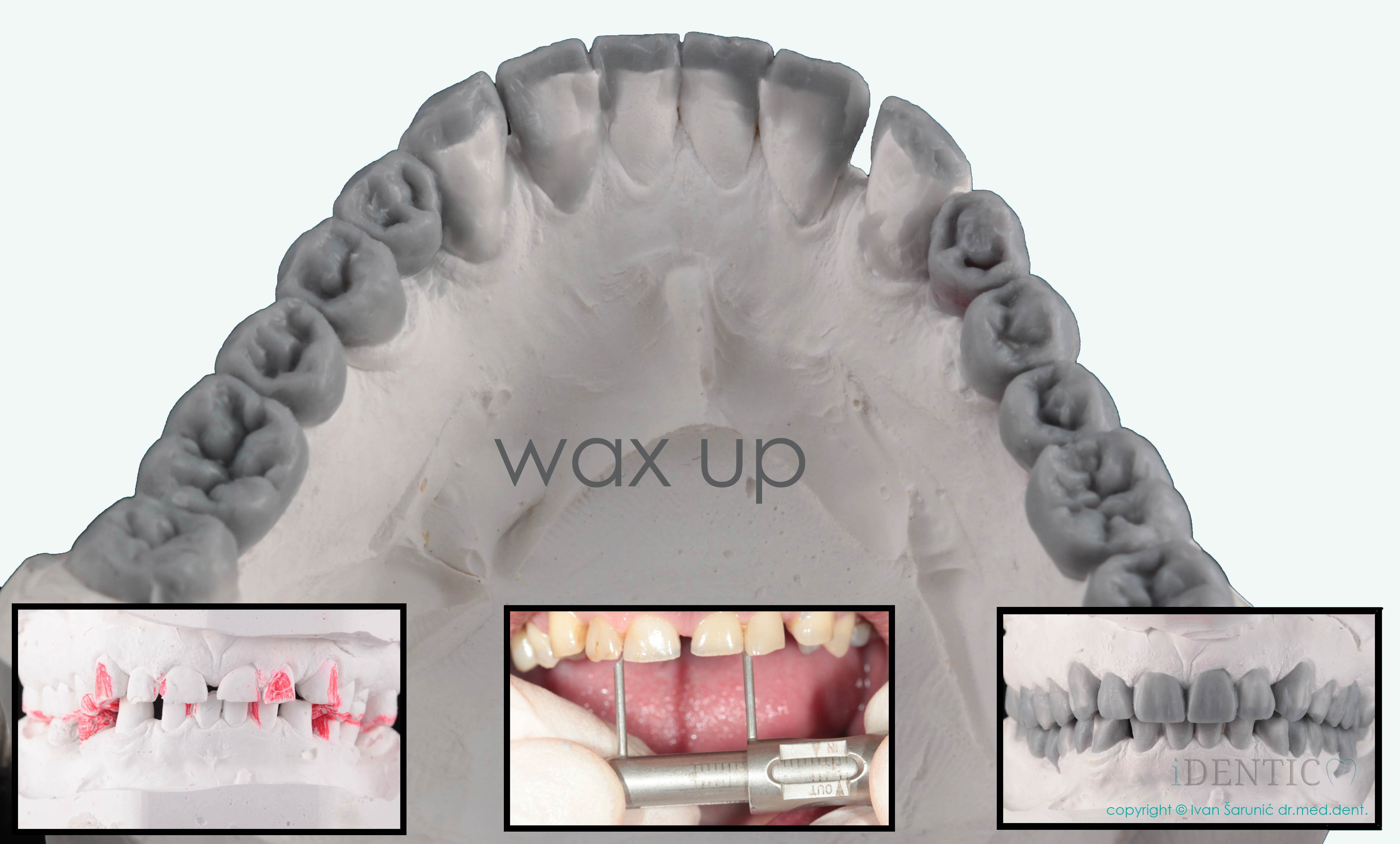 A mock up technique enables us to transfer the wax-up model to the mouth. This gives the patients the ability to test drive the new smile and to play with a few changes before committing to the agreed treatment (teeth shaping and taking impressions).
After smile design is obtained, depending on the treatment plan may include: teeth whitening, fabricating ceramic veneers, full ceramic veneers and bridges, metal ceramic crowns and bridges and composite fillings.
Teeth whitening is a procedure that whites natural teeth. Teeth can become discoloured or stained mostly due to coffee, tea, red wine and coloured beverages, but also because of tetracycline colouration, pulp necrosis, developmental teeth anomaly and alike. Materials used in teeth whitening contain carbamide peroxide or hydrogen peroxide.  Whitening is based on oxygenation of the pigment in solid teeth tissues that finally turns the colour of the teeth brighter. There is so called home whitening and whitening done at the dentist's. For home whitening we make individual whitening splints that are filled with whitening material (16% carbamide peroxide) and are worn at night. This should be done from 4 up to 8 days until the teeth obtain a desired colour. At the dentist's we use 30% up to 38% hydrogen peroxide gel and the whitening effect is achieved quite fast, almost after one or two appointments. The treatment itself is quite simple: after the gums have been protected the whitening gel is applied – the whole treatment lasts up to 45 minutes.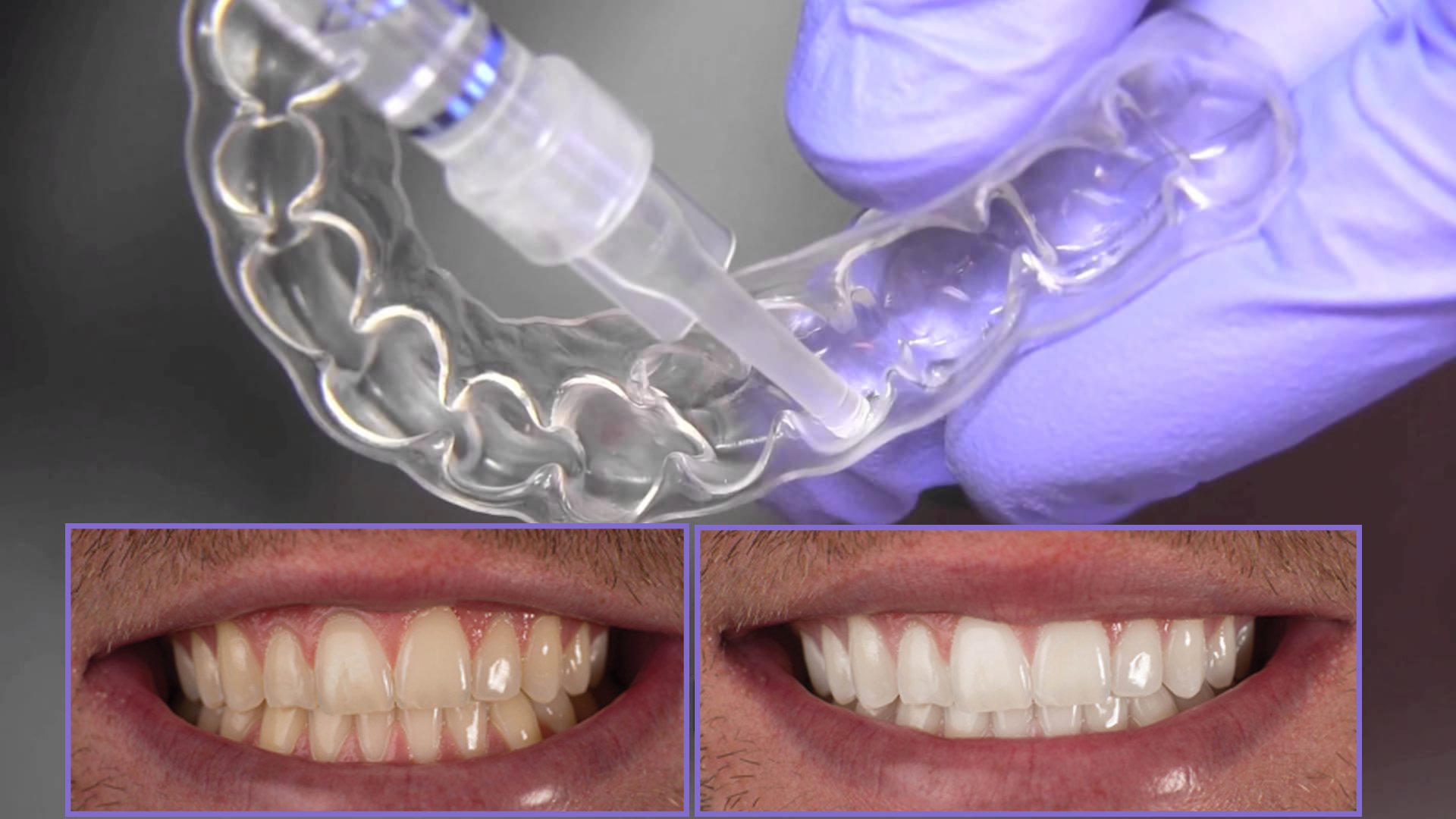 It's worth mentioning that there is an extensive range of products for teeth whitening at the dentist's some of which are activated by a chemical reaction and some by laser lamps. However, no matter which treatment is used the most important is the final result: there are scientific proofs that teeth whitening is not affected by the way the whitening materials are activated. For teeth whitening of our patients we use only Opalescence product by Ultradent that is state-of-the art product on the market at the moment. (www.ultradent.com).
Ceramic veneers are very thin veneers made fully of ceramics that are adhered to the front surface of teeth. Veneers are often the treatment of choice as they allow for minimal teeth shaping, taking impressions and laboratory preparation. After they have been cemented to the front surface of teeth their exceptional aesthetic features make teeth look natural. Veneers can close up the gap between teeth, they can be used to correct the colour of teeth as well as badly shaped or chipped teeth. Practice proved best veneers that are made of IPS e.max ceramic (www.ivoclarvivadent.com)  that we also have on offer.
Although veneers may seem to be a perfect solution there have been cases in which veneers are not recommended mostly because of certain features of a bite: here metal-free crowns or bridges are a way better option.
A crown is a fixed restoration that is adhered to natural teeth restoring heavily decayed and/or unsightly teeth.  The crowned tooth should be prepared first. You can rest assured that we'll provide you with crowns made of high-quality materials that are not only functional but also utterly beautiful.  
A tooth bridge is a fixed prosthetic replacement that restores one or more lost teeth. As their name suggests dental bridges bridge missing teeth or gaps creating both chew ability and aesthetics anew.   The simplest bridge is made if one tooth is missing: here we prepare neighbouring teeth and make a bridge of three units that is cemented thereon.
All-ceramic crowns and bridges contain no metal at all.
To metal-free crowns the following belongs: ALL-CERAMIC CROWNS, ZIRCONIA CERAMIC CROWNS AND BRIDGES, FULL ZIRCONIA CROWNS AND BRIDGES.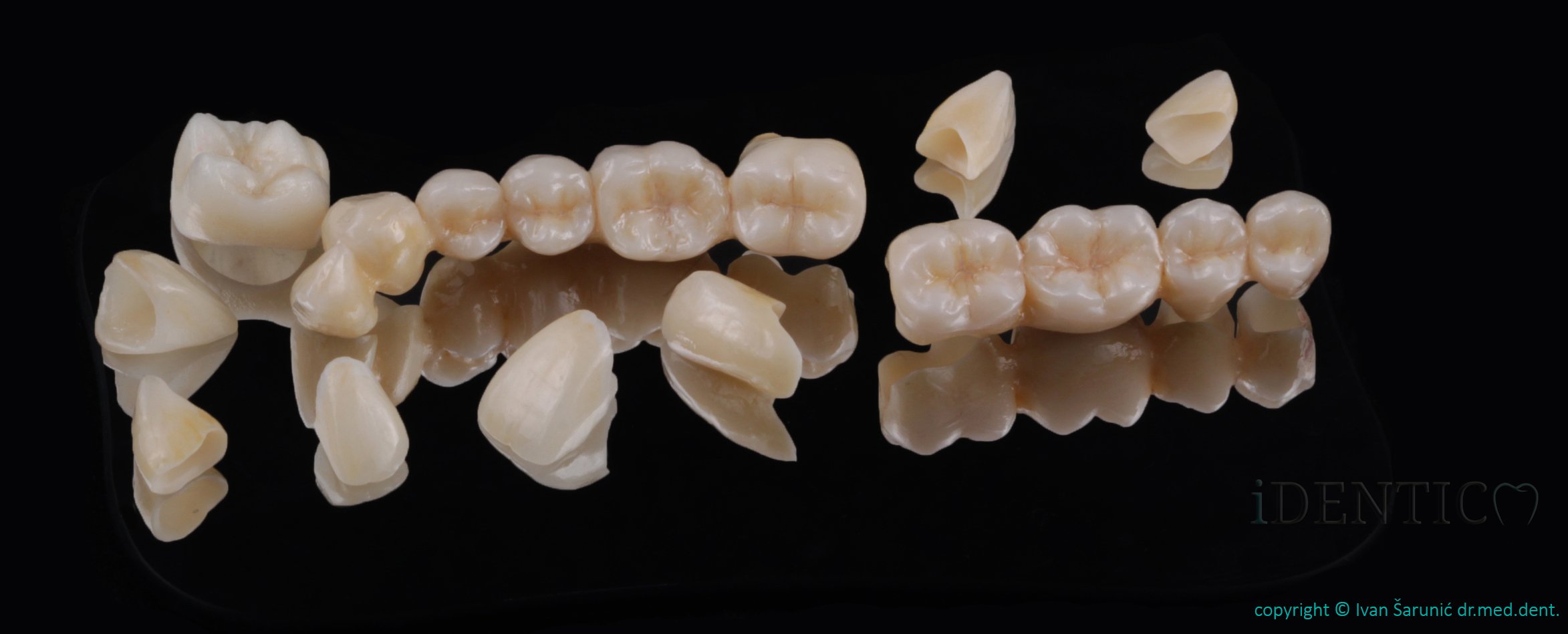 Metal-free based ceramic crowns and bridges may boost shape, size and colour, and in case of teeth loss, they cane faithfully restore previous condition. When compared to standard metal and ceramic works they boast some far better aesthetic features for several reasons: above all, they let light in better   and thereby their optimal translucency obtains a natural and attractive appearance. Furthermore, what tends to happen with metal ceramic crowns is that, due to gum recession (and also because of inadequate preparation), in the tooth neck a "dark line" begins to appear because metal "glows through". None of this is the case in metal-free works.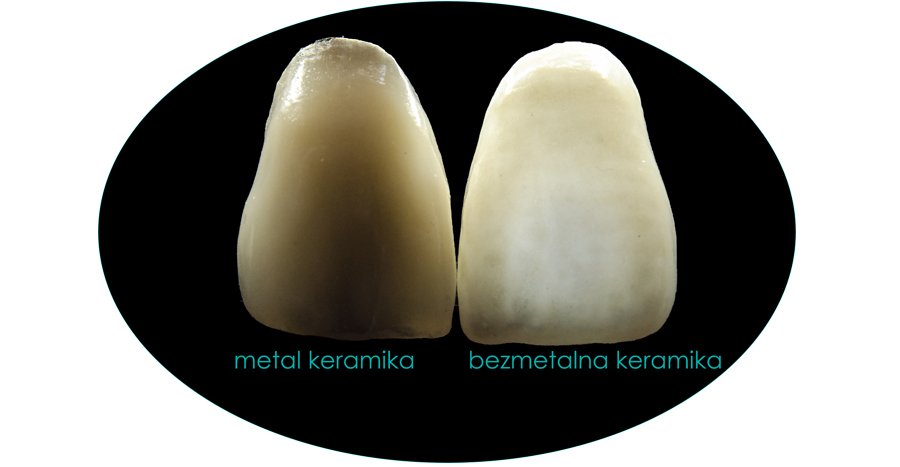 Given the fact that dentist adequately prepared teeth (which implies a certain skill and we can really pride ourselves on being the best) the edges of crowns will perfectly fit to the stump and gums will look healthy and natural. As all materials are bio-compatible there is no danger of allergies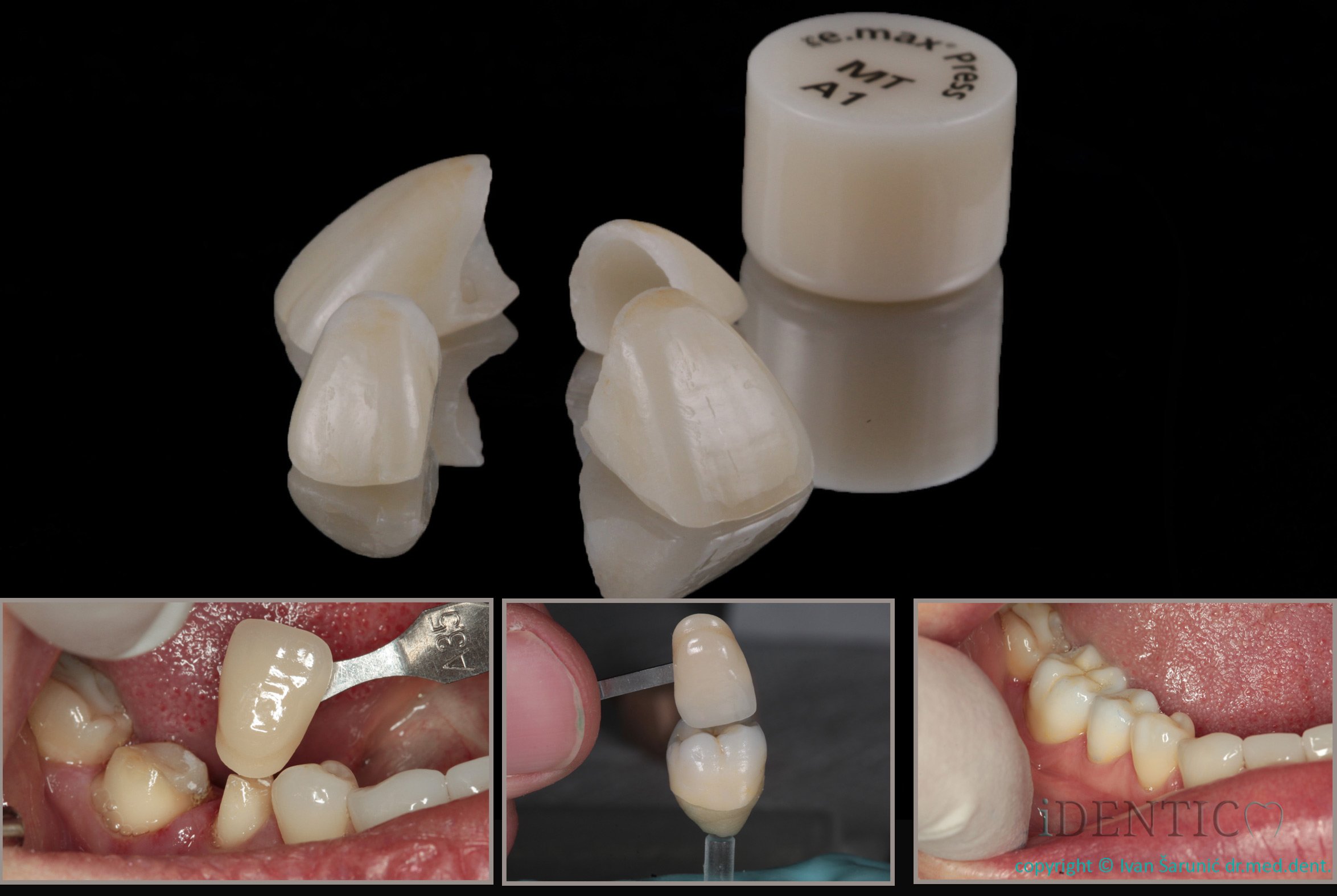 Crowns made purely of IPS e.max ceramics are distinguished by high-quality aesthetic features and an excellent reproduction of natural teeth.   If certain criteria are met (a prepared teeth shouldn't be dark in colour) all-ceramic crowns achieve best aesthetic result when compared to all other materials
Are particularly appealing and solid, just like natural teeth. They are made by CAD – CAM procedure (computer - aided design and manufacturing). Unlike crowns made by hand, which largely depends on the skill and accuracy of dental technician, CAD CAM technology allows for 100% accuracy and adaptation to the prepared tooth. Crowns and bridges made in this way excel in perfect accuracy of edges and in natural look as well.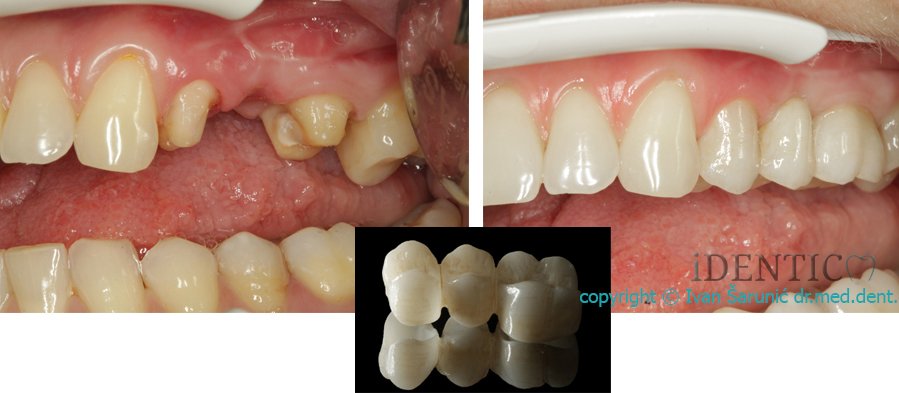 The base of these crowns makes zirconium oxide (zirconium), a perfectly bio-compatible material that once covered with ceramics boasts some excellent aesthetic features. These crowns and bridges perfectly fit to the prepared tooth so there is no danger of infection or gum recession due to a thick or black edge of the crown under the gums.
Are made exclusively of zirconium. Their making is based on CAD - CAM procedure thanks to which the works are highly accurate. Besides excellent aesthetic features and high bio-compatibility their firmness reduces the risk of crowns getting damaged. Zirconium crowns and bridges have less abrasive features when touching the teeth of counter jaw. Works based on these crowns and bridges are exceptionally fast which makes them a product in high-demand.
An ever growing number of patients ask for metal-free prosthetics.

An ever growing number of patients want a superior, accurate and aesthetically perfect treatment for their teeth. Join them.
Are dental restorations made of metal base that can be gold or an ignoble alloy over which ceramic is put. We use solely nickel-free metals. Although today they're a bit ignored because of the development of ceramic systems they're still a safe and clinically proved material.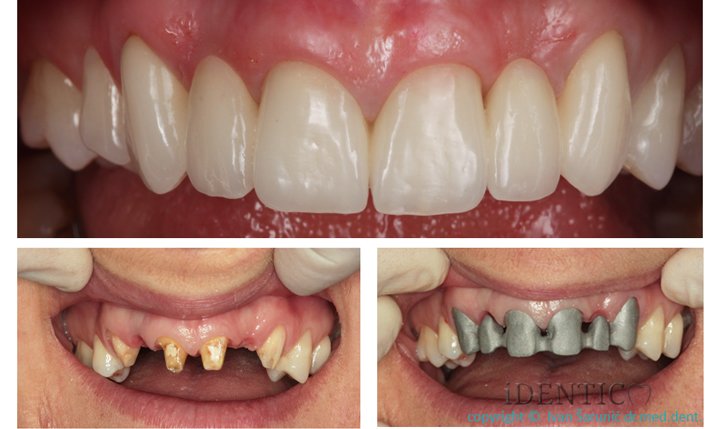 It's worth mentioning that in order to fabricate both all-ceramic and metal ceramic crowns and bridges, we shape the tooth to a step with a clear limit of preparation to achieve perfectly accurate crown edges.  Edges are made of ceramics so that there are no dark metal edges on the teeth we treat and the gums along the crown is healthy and natural in colour. All crowns are cemented adhesively with best composite cements (panavia).
when making crowns all teeth shaping is done to a step so that we'll provide that healthy gums are right next to the crown without infections, bleeding and unpleasant smell that may occur when teeth are shaped in a different way.
we use state-of-the art impression materials and our impressions are utterly precise
we make crowns edges purely of ceramics so that no metal edge becomes visible. In this way, even if gums recession occurs due to aging, crowns will still be appealing as the colour of the crown simple blends in with the teeth colour without creating a grey line.
all crowns are cemented exclusively with adhesive techniques using best composite cements (panavia)
we don't use alloys containing nickel (allergy alert)
our technicians possessing considerable talent and provided with excellent education are more than ready to breathe in new life into every ceramic crown so that it looks exactly as a natural tooth.
Do you need any more reasons? 
So called white fillings are fillings that don't differ in colour from the neighbouring tooth. Unlike amalgam (grey) fillings that are bonded to the tooth only mechanically, composite fillings require less teeth preparation, are firmly adhered to the  enamel  and dentine (chemically and mechanically) and make a good support to the remaining tooth. A tooth restored with a composite filling is less hot/warm sensitive as compared to amalgam fillings.

We use the latest generation of composite materials (filtek ultimate) that have an extensive range of colours and different degrees of translucency as well as the fluorescence of a natural tooth so that they reproduce the appearance of a natural tooth fully. The filling quality largely depends on polymerisation lamp with which the filling is lightened. We use bluephase lamp  (www.ivoclarvivadent.com ), one of the best in the world. 
Is jewellery fitted to the naturally healthy teeth. From precious stones and zirconium it comes in different shapes and colours.  No previous tooth shaping is required: jewellery is fitted and removed painlessly without damaging a tooth.